Exhibiting Events
---
News
[2018/06/08]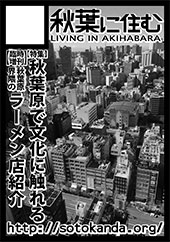 We will exhibit in Comic Market 94. Our place is East 6 Hall Na-53b on Thurd day(Aug. 12). We will publish TWO new books(Doujinshi) in Comic Market 94. Our new book is titled "Akiba ni Sumu VOL.28"(Feature story: Touch Culture in Akihabara), and "EXTRA : Ramen shop around Akihabara".

---
About Us
Living in Akihabara (Akiba ni Sumu) is Doujinshi-circle which is in active in information genre. We are publishing magazines(Doujinshis) about "Akihabara Electric town from the view point of Living". Representative of the circle is realy living in Akihabara(Sotokanda Chiyoda City Tokyo).
We are mainly exhibiting Review/Information genre(Code:600) of Comic Market.
Our activity is doing only privately hobby, and we are not related to Chiyoda City or realestate companies or etc.

See also:Living in Akihabara Circle Profile 2015(Published Mar. 2015) All pages pdf(5.2MB)
How to get our books
You can get our books at Doujinshi marketplace(Comic Market, COMITIA, Aki-Colle, etc.), and Doujinshi-shop(COMIC ZIN, Tranoana, Melon Books).